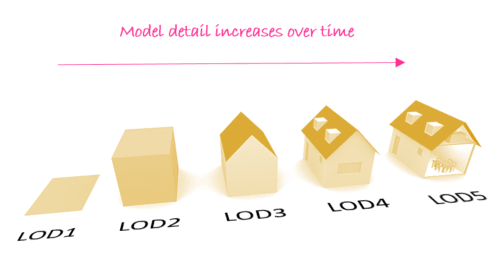 BIM Level of Detail (LOD) – Get ideas of each stage of a BIM modeling process
4 November 2018
BIM Level of Detail (LOD) – Get ideas of each stage of a BIM modeling process
LOD stands for Level of Detailing in BIM. This specification determines the nature of the BIM Model based on the client requirement. It is not always important to detail the model in totality. We can work on need based BIM Models that can differentiate the stages based on the Level of Detailing. Typically a BIM model helps in denoting the amount of details or intricacies for a building.
LOD is the measuring criteria of the utilization of a model. These standards are determined by construction bodies appointed by the Government for effective implementation at different stages.  Architects and Engineers work on BIM projects based on these standards. The standards of LOD for BIM are defined below
LOD 100 (Conceptual design/Schematics) – This is the first stage of the construction phase. LOD 100 denotes the design and schematic stage. The details produced with this LOD is just basic massing, lines and 3D geometry. This model will give you an idea of how a building structure will look like in a nutshell. This model will not even have door or window details. Architects and Engineers can use this model for energy modeling purposes too. Software like Revit can be used for basic 3D modeling and Ecotect can be used for energy modeling.
LOD 200 (Design Development) – With LOD 200, you can create a presentation model for the client. This presentation model gives an idea of the door window shapes, size, flooring, basic and generic furniture placements etc. The BIM Models exhibit a general design of a building structure. LOD 200 models are an integral part of the Architectural BIM Services which starts with design intent model and can be further upgraded based on different functions.
LOD 300 (Detailed Design and Documentation) – Other phases of BIM starts with the LOD 300. The 3D geometry created with LOD 300 indicates that this model is much more than mere presentation. When a client demands LOD 300 model, it means that he intends to use BIM for construction. Clash detection and BIM coordination, Architectural Construction Drawings, 3D Rendering Services etc. all these construction processes require ample level of detailing. In this model, we can use generic as well as parametric Revit families. These models can be used to extract coordinated shop drawings further used for construction.
LOD 400 (Construction & Fabrication) – These models basically are a level up than LOD 300. These models have shop details, detailed views of components that can be fabricated. The assemblies are with real time details, that help the Engineers and onsite construction labor to proceed ahead with the installation of specific components. In LOD 300 you come to know about the placements but with this the specific details and parts are developed and can be used to fabricate them through CNC machines.  tconstruction or fabrication and also facilitates them
LOD 500 (As Built) – This is the last stage of the BIM Modeling phase. The as-built stage covers the updation of the BIM model with the onsite construction updation. This model is further retained for facility management and renovation of the building at a later stage. These models are leveraged to analyze building efficiency once it gets operational. Scan to BIM Services is another BIM discovery that eliminates manual surveying and drawing creation by scanning the building structure
BIM LOD specification has enabled segregation of the whole BIM modeling and design process in various levels. Is has helped in distributing the work load and ease the way for Engineers, Modelers and other authorize professionals.
Source: https://bimforum.org