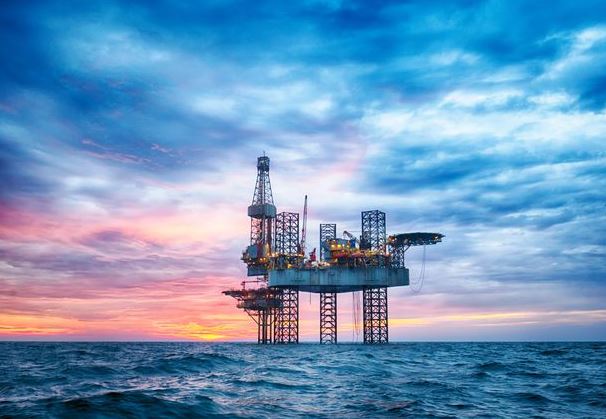 Movable and Fixed Oil Platforms Types
8 February 2020
Movable and Fixed Oil Platforms Types
While choosing the correct type of platform, several factors need to be considered: such as its function and the water depth. Based on these two factors the oil platforms are designed into two major categories: one is movable oil platform, the other kind is fixed platform.
1. Movable Oil Platform
1.1 Drilling Barges
Drilling barges are shown in Fig.1. They are mostly used for shallow,in land waters; this would typically be lakes, rivers, and canals. When the drilling barge tends to be large floating platforms must be moved using a tugboat to the location of drilling. They are not suitable for large open waters as they are not able to with stand water movement.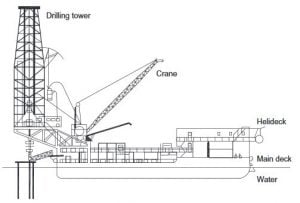 Fig.1. Drilling Barge
1.2 Drillship
As shown in Fig.2, drill ships are ships with the drilling platform installed inthe middle of the ship deck to allow the drilling string to reach the sea bed through ship's. Drill ships can drill even in deep waters. Drill ships maintains its position using dynamic positioning systems and other sensors. The ships also use satellite-positioning technology with motors integrated below the hull to position the ship directly above the drill site.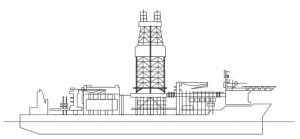 Fig.2. DrillShip
1.3 Jack-Up Platforms
Jack-up platforms (Fig.3) are mobile drilling platforms made of floatable deck with three or four legs lowered on to the seabed upon being towed to the drill site. The platform is then towed to the location with raised legs. It can raise its hull over the surface of the sea. Jack-up rigs are suitable for shallow waters with a maximum depth of water of up to 130 m in gentle water and up to 70 m in harsh waters. Jack-up platforms tend to be a safe alternative than drilling barge since during operation they operate similarly to a fixed platform.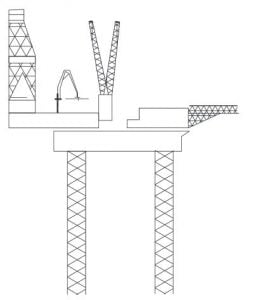 Fig.3. Jack-up rig
1.4 Submersible Platforms
As shown in Fig.4, submersible platforms are mobile structures which are designed that can be floated to location and lowered onto the sea floor for offshore drilling activities. However, due to its own feature, it is only limited to shallow waters.
It normally consists of two platforms one is on top of another. The upper platform is the actual drilling platform, the lower platform provides buoyancy during towing of the platform between drilling sites.Once the platform has been positioned, air is let out of the hull and then it submerges to the sea floor. Due to the design of the platform, it is limited to shallow waters.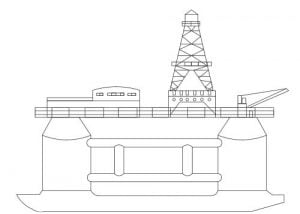 Fig.4. Submersible Platform
1.5 Semi-Submersible Platforms
As shown in Fig.5, semi-submersible platforms are similar in design to submersible platforms with same principles. As the lower hull can be inflated and deflated this type of platform is only partially submerged and uses water to fill the bottom hull for buoyancy. A semi-submersible platform can be used to drill in deep water depths of 1800 m.
The depth of the lower hullthat submerges into the water is predetermined, and the platform is held in position by anchors weighing upwards of 10 tones. The dynamic positioning can also be used for the same purpose, and this can ensure safe and stable conditions of the platforms.

Fig.5 Semi-submersible platform
2. Fixed Type Oil Platform
The fixed platforms are normally used in shallow waters. They have the legs which are made of concrete or steel tubular structures anchored to the seabed to ensure stability of the platforms. However, the cost of these types of permanent platform would be too much to use in deep water conditions, therefore, if most of them are used in the shallow sea water, except for compliant tower (CT), which can be used for>600 m. There are several types of fixed platforms such as, Jacket platforms, tension leg platform(TLP), gravity platform, or even an artificial island.
2.1 Jacket Offshore Platforms
As shown in Fig.6, jacket platforms are one of the most commonly used fixed type of platform, about 95% of the offshore platforms in the world are using jacket platform. The platform is supported by steel space frame which consists of plate girder or deck truss structure supported by welded tubular that is piled to the sea floor. The steel frame is called jacket. It is used in water when the depth does not exceed 500 m.
Fig.6. Jacket offshore platforms
2.2 Tension Leg Platforms
Fig.7 shows the TLPs. TLPs is evolved from semi-submersible platforms, which consist of a buoyant floating platform kept in position by pretensioned anchors fixed to the seabed using vertical mooring lines called tension leg. Although vertical movement is restricted, they do allow for significant sideway movements. The pretensioning of the tethers is huge in size to avoid compression due to waves.
Typically, thetethers consist of a 12- to 15-m-long section connected by welds or threaded joints, with a pile or gravity skirt foundation into the seabed.To further increase the stability of the platform the lower hull is filled with water during drilling to resist movement of ocean and wind forces.The TLPs can operate in waters up to 2.13-km-deep waters. Sea star platforms are a miniature version of a TLP made for waters of depths up to 1 km.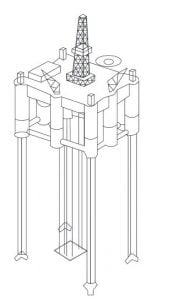 Fig.7. Tension leg platform
2.3 Gravity Platforms
Gravity platforms consist of a steel deck and concrete framework as well as as teel skirt foundation where petroleum is normally stored in the skirts. Gravity platforms have been made for water depths of up to 300 m in harsh waters.
They are built in an upright position and towed out to the off shore drilling site and installed by ballasting, where a heavy substance is used to provide floating stability.
Gravity platforms are cost-efficient option dueto reusability of a platform as the structure can be towed to another location.A gravity platform is shown in Fig.8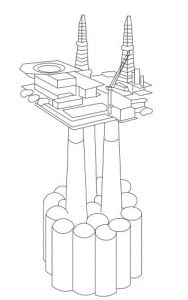 Fig.8 A gravity platform
2.4 Spar Platform
This is one of the largest fixed type offshore platforms. The spar is a lowmotion floater that can support full drilling assistance of flexible or steel cat-enary risers.
A large platform consists of a large cylinder that does not extendall the way to the seafloor but is tethered to the seabed by cables and lines.
A cylinder is used to stabilize the platform in the water and allows the move-ment to absorb the force of the hurricanes.
There are different types of spars: original cylindrical classic spar, truss spar, the cell spar, the Arctic Spar, and spar with storage.
Three main types of configurations of Spar platform cylinders are mentioned below:
Conventional spar: One-piece cylindrical hull, as shown in Fig.9.
Truss spar: Midsection is made of truss elements as shown in Fig.10.
Cell spar: Midsection made of multiple vertical cylinders, as shown in Fig.11.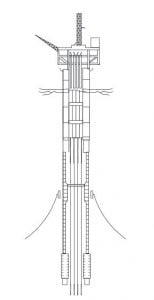 Fig.9 Conventional spar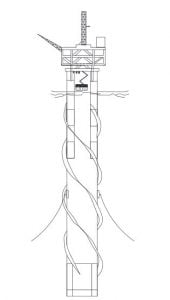 Fig.10 Truss spar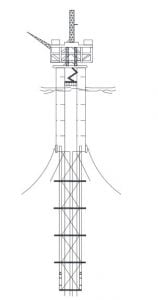 Fig.11 Cell spar (Skaug, 1998)
2.5 Compliant Towers
A CT is a fixed rig which is similar to the fixed platform, but consists of anarrow tower attached to piled foundations on the seafloor and extend up to the platform shown in Fig.12.
In deep water, in order to prevent excessive amplification of wind, waves, and current, the natural period of the bottom founded structure should be substantially different to the dominant period of hurricane. Therefore, one of the methods to achieve this is to be able to control the mass and stiffness of the rigs.
The advantage of CTs use the flex elements such as flex legs and axial tube, which can control its natural periods therefore resonance is reduced and wave forces are de-amplified. Therefore, they are designed to sustain significant lateral deflections and forces, and are typically used in water depths ranging from 450 to 900 m.

Fig.12. Compliant tower