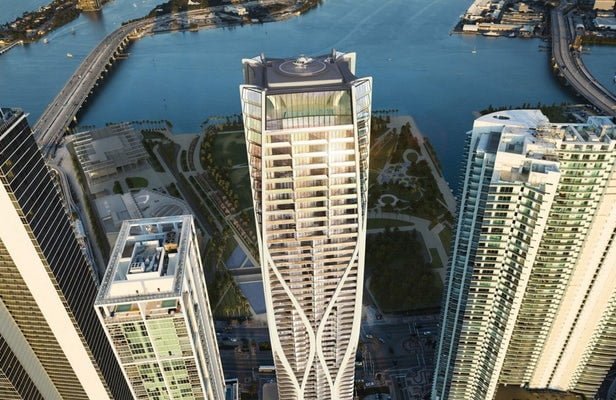 Exciting architecture projects to look forward to in 2019
31 January 2019
Exciting architecture projects to look forward to in 2019
2018 was an outstanding year for architecture, but 2019 is shaping up to be just as exciting too, and there are already several noteworthy projects on the horizon. From a supertall skyscraper to a massive airport terminal shaped like a starfish, here's our pick of projects to look forward to this year.
Though issues arise and buildings sometimes get delayed at the last hurdle, we've focused on projects that are, as of writing, expected to be completed in 2019. Read on below to see our pick and you can also hit the gallery to see more of each project.
First unveiled all the way back in 2011, the Bjarke Ingels Group (BIG)-led CopenHill (aka Amager Bakke) is a power station in Copenhagen with a "smoke ring generator" that will expel a steam ring each time 250 kg (551 lb) of carbon dioxide is produced. It's also topped by a ski slope for visitors and locals to enjoy.
This one's a lot of fun and it's hard to imagine a firm other than BIG coming up with the idea. The power station itself is already operational but the ski slope roof is currently being tested and is expected to be open in April.
The design for Europe's first underwater restaurant was unveiled by Snøhetta back in 2017. The last time we checked in, the project was being built atop a barge and the engineers were preparing to submerge it and secure it onto the sea bed at Norway's southernmost point.
Snøhetta likens Under to an oversized periscope and it will sport a large panoramic window offering diners a view of the seabed as they eat. The building will measure 600 sq m (6,458 sq ft) and sport 1 m (3.2 ft)-thick concrete walls to protect it from the crashing waves. Under is expected to be open for bookings in "Spring 2019" (northern hemisphere).
One Thousand Museum – Zaha Hadid Architects
The late Zaha Hadid's One Thousand Museum sports an eye-catching glass-fiber reinforced white concrete exoskeleton that twists as it rises to a maximum height of 215 m (706 ft)-tall.
The residential project is aimed at the well-heeled and billed as a "Six Star" residence. It includes just 83 homes in all, with apartments measuring between 4,600 and 9,900 sq ft (427 – 919 sq m). Each will boast multiple balconies and the building overlooks Miami's famous Biscayne Bay. One Thousand Museum is due to be completed sometime this year.
Vessel – Heatherwick Studio
Looking like a strange cross between a big pineapple and an M.C. Escher artwork, Vessel is the centerpiece of a massive development in Hudson Yards, New York City, the largest private real estate development in the history of the United States.
Costing US$150 million for what is essentially just a fancy viewing point, the structure will rise to a height of 150 ft (45 m) and comprise 54 interconnecting flights of stairs, 2,500 individual steps, and 80 landings – as well as an elevator for disabled access. It's certainly something a little different and should be finished in the next few months.
Lakhta Center – Gorproject/RMJM
Rising 462 m (1,516 ft) over St. Petersburg, Russia, the bullet-shaped Lakhta Center is rated the 13th tallest building in the world and is Europe's tallest tower.
Its construction has taken over six years and involved 20,000 people from 18 countries. The foundations required concrete to be poured continuously for 49 hours and its glazing measures 72,500 sq m (780,383 sq ft). It takes the form of a spire with five wings that twist a total of 90 degrees from top to bottom and has been pre-certified LEED Gold (a green building standard) for its energy-efficient design. The Lakhta Center is due to be officially completed soon.
Beijing Daxing International Airport terminal – Zaha Hadid Architects
Another project by ZHA, the Beijing Daxing International Airport terminal (aka Beijing New Airport) was promoted as the world's largest airport terminal building when revealed and as far as we know this still stands. It's expected to open for business in September, 2019.
The huge building was created in collaboration with ADP Ingeniérie and takes the form of a massive starfish, with a total floorspace of 700,000 sq m (over 7 million sq ft). It will eventually have a capacity of 100 million passengers annually and will apparently also boast sustainable technology, but we've still received very little information on it as of writing. No doubt we'll learn more once it's finished in late 2019.
Gardenhouse – MAD Architects
MAD Architects' Gardenhouse was originally slated for completion in late 2018 but now expected sometime this year. It consists of a large podium envisioned as an artificial mountain, with 18 houses atop. The podium will be covered in native, drought-tolerant greenery and contain commercial spaces for rent on ground level.
There are some potential issues like noise and pollution, but it'll be fascinating to see if the firm can meet its goal of bringing the feel of a mountain village to Beverly Hills, California.
Source: www.newatlas.com