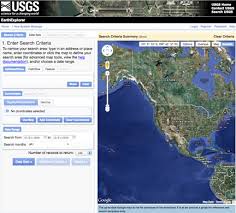 USGS 3DEP Lidar Point Cloud now available as Amazon Public Dataset
27 February 2019
USGS 3DEP Lidar Point Cloud now available as Amazon Public Dataset
The USGS 3D Elevation Program (3DEP) announced the availability of a new way to access and process lidar point cloud data from the 3DEP repository. 3DEP has been acquiring three-dimensional information across the United States using light detection and ranging (lidar) technology- an airborne laser-based remote sensing technology that collects billions of lidar returns while flying- and making results available to the public.
The USGS has been strategically focused on providing new mechanisms to access 3DEP data beyond simple downloads. With 3DEP's adoption of cloud storage and computing, users now have the option to work with massive lidar point cloud datasets without having to download them to local machines.
Currently, there are over 1.77 million ASPRS LAS tiles compressed using the LASzip compression encoding in the us-west-2 region, which equates to over 12 trillion lidar point cloud records available from over 1,254 projects across the United States. This resource provides users a mechanism to retrieve and work with 3DEP data that is quicker than the free FTP download protocol.
"The 3D Elevation Program was founded on the concept that high-resolution elevation data should be provided unlicensed, free and open to the public," explained Kevin Gallagher, Associate Director for USGS Core Science System. "This agreement with Amazon helps to fulfill that promise by providing cloud-access to the trillions of data points collected through the Program.
The democratization of elevation data is a tremendous achievement by the community of partners leading this effort and promises to revolutionize approaches to applications from flood forecasting and geologic assessments to precision agriculture and infrastructure development."
Hobu, Inc. and the U.S Army Corps of Engineers (USACE) Cold Regions Research and Engineering Laboratory (CRREL) collaborated with the Amazon Web Services (AWS) Public Datasets team to organize these data as Entwine Point Tile (EPT) resources, which is a lossless, streamable octree based on LASzip (LAZ) encoding. The data are now part of the Open Data registry provided by AWS, similar to the Landsat archive.